A few weeks after having Tucker euthanized last December, we decided to start looking for a new Jack Russell puppy. I found an online advert from a breeder up-Island which appealed to both of us: two brothers who were nine weeks old. We drove up to see them, and decided to bring them both home with us. Tanner is the little guy and Rolly is his big brother. They have kept us busy with training – I sometimes wonder who is training who!
The pups give us much joy and lots of laughs, along with some problems with their high energy levels. They need three walks every day; otherwise they simply can't contain their enthusiasm for life…which keeps everyone in the house on our toes. Our cat Sheba has lost weight over the last year (a good thing), no doubt due to being "dogged" by the pups. Now that they are one year old, Rolly and Tanner are trying their best to be good dogs.
Our cat Percival had to be euthanized this last June, after rapidly developing multiple health problems earlier in the year. He was best buddies with the pups, and actually got down on the floor and wrestled with them! Percy was a treasured member of our family, but after consulting with the specialists, we realized his time with us was short. He was a gift to us all while he was part of our little family.
I decided to make a serious effort to research my family history over the next year or so. I joined the Victoria Genealogical Society in September, and find the group is quite good at sharing their knowledge and resources with a newbie (like me). I also subscribed to Ancestry.ca – a commercial online genealogical research site, which has a huge number of historical records. The four families of my grandparents are: Moore, Carr, Carruthers, and Nicholson. All these ancestors originate from northern England, and all emigrated around 1900, so it is relatively easy to track my family history. I have also captured the more recent family history by talking and corresponding with my older relatives, which has proven valuable to verify that the online official records I find are actually people of interest. I have found a couple of family skeletons, but none I didn't already know about! Descendants of my paternal grandfather Joseph Emerson Carr
It has been a very good year for observing the Sun. There were two very special events which happened this year involving the Sun in a big way.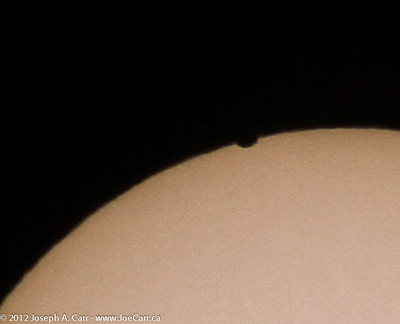 The first event was the Transit of Venus, which happened on June 5, 2012. This is an exceedingly rare celestial event. This was last opportunity in my lifetime I would have to observe the planet Venus track across the face of the Sun. As the day approached, we were suffering through the worst weather for June on record, so I made plans to escape to areas with better prospects. However, I eventually decided to stay home, and take my chances.
As it turned out, we experienced nothing short of a miracle weather-wise, since the clouds parted, and we were able to observe the Transit of Venus from the start to when the Sun set. I took lots of photos, and spent the day at home on my front deck observing Venus and the Sun through my solar filtered equipment.
The second event was a Total Eclipse of the Sun by the Moon, which tracked across the South Pacific on November 14, 2012. This involved more elaborate planning on my part; in fact, I had planned on observing this event two years ago. I chose to join a ship chartered expressly for the purpose of observing the Total Solar Eclipse from a position in the ocean south of New Caledonia. The Paul Gauguin cruise ship offered a luxurious option, and I had always wanted to experience five star service aboard a small cruise ship. I was not disappointed. On November 14th, I was able to join my fellow eclipse chasers on the deck to observe and photograph the solar eclipse under nearly perfect conditions.

I also spent an additional 10 days in Fiji enjoying the warm weather, superb snorkelling, and of course the friendly Fijian people. I had always wanted to go to the Yasawa Group of Islands, and this was the year for it. Once I departed from the Paul Gauguin cruise ship, I took a seaplane to Blue Lagoon Beach Resort and kicked back for a week. I snorkelled every day in the lagoon, which was right outside the front door from my beachfront villa.  Sublime!

Slideshow of my whole 2012 Fiji trip
This seemed to be the year for aurora borealis, since I was treated to two occurrences in our area this year.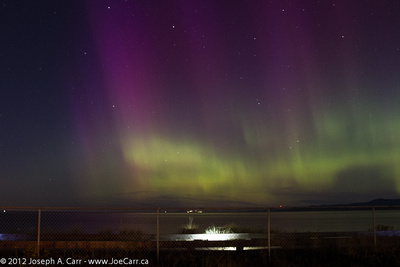 Sept 4, 2012 – This was a beautiful display shimmering over the Strait of Georgia, which I observed from our camping spot on Parksville beach. We had taken the motor home to Park Sands Resort to take advantage of the good weather, and I picked up a message from one of my astronomy buddies that an aurora was likely. As it turned out, nobody saw this aurora in the Victoria area, however since I was further north in Parksville, and the direction over the the Strait provided a relatively dark sky, I was treated to a wonderfully bright aurora display, with undulating curtains of green, and pink spires shooting up almost overhead.
Oct 8 & 9, 2012 – Just a month later, I saw another aurora from Victoria – a rare treat indeed from the city! Some of my astronomy buddies could see the aurora from Central Saanich (a darker location than the city), so I decided to drive a few blocks to a local municipal park, just to see what I could see from this dark spot in the city. Sure enough, the aurora appeared to the east over the Strait. This aurora was more faded due to the light pollution I was looking through, but it was an unmistakable aurora with green curtains of light and some dancing spires of pink.
I turned 60 years old this year. I tried to ignore this birthday as much as possible, however I did apply for early payment of Canada Pension, and received my first payment in November of this year. I have been retired from the BC Government for five years now, so I guess I am officially a pensioner.
On the technology front, I have been busy supporting the economy by purchasing expensive gear. First up was an Apple MacBook Pro 15″ Retina display. I already have a two year old MacBook Air 11.6″, which I am very pleased with. I use the MacBook Air when I travel, and for taking notes at meetings, since it is so small and easy to use. My rationale for purchasing the much bigger 15″ MacBook Pro is to see if I can eventually replace my Windows workstation computer with a Macintosh platform. Using my MacBook Air for notes and travel is an easy sell, however it will take a couple of years for me to feel my way with changing workstations, since it is a big step for me to leave behind the huge investment in time and knowledge I have with Windows-hosted software.
The other techie purchase I made was to acquire a new Canon EF 70-300mm f-4-5.6L IS USM zoom lens. After some careful consideration, I realized it was time to rationalize my lens line-up for my digital SLR cameras. I had two older telephoto lenses I was using, a 70-200mm and a 400mm, both of which did not offer image stabilization (IS). I was motivated to go with an IS zoom lens, especially for the Solar Eclipse cruise, where I was going to be taking photos of the Sun from a moving platform (a ship's deck). Canon promised that their new 70-300mm zoom design delivered 4 f/stops of IS performance…a first in their line of zooms. I took the new lens with me on the ship, and took photos of the Total Solar Eclipse without any discernible image blur, so the IS performed very well. Now that I am back home, I will sell three lenses out of my camera kit to rationalize my purchase.
The last bit of techie news is that I have decided to turn off my JoeTourist server, and use a hosting service for all the websites and email services I provide to myself and my clients. This is a big deal, since I have run my own server since April 1999. It is an opportunity to take advantage of economy of scale, since buying service from a hosting service is so inexpensive, and they offer reliability, features, and better service that I can provide to my own customers. As I write this, the migration is almost completed. The website you are currently reading is running on the new service, and I must say, I'm very pleased with how easy it was to migrate the content and email over to the new service provider. HostPapa may have a funky name, but they are best-rated, and are based out of Toronto.
Our first trip in the motor home this year was to Park Sands Resort in Parksville in mid-May. This is our favourite place to kick back and relax, since the RV park is right beside the beach. The dogs are allowed on the beach without restriction; the RV park has all the facilities we need, and Parksville is an easy drive from Victoria.

Since the Spring weather turned bad after our mid-May trip, our next trip in the motor home was in early July to the west coast of Vancouver Island at a place called Crystal Cove Resort located on MacKenzie Beach, which is near Long Beach and Tofino. Rolly, Tanner and I had a great time on the beach, and the RV park is very well run and spotless.
The third week in July, I took the motor home to attend the Island Star Party at Bright Angel Park in Cowichan Station. It is pretty luxurious to have the whole motor home to myself, and the star party provides me with a nice opportunity to kick back and relax in the middle of summer at a location that is close to home, and which costs very little. The skies were not clear, so no astronomical observing happened at this star party, but everyone still enjoyed themselves.
In early August, we camped at China Beach Provincial Park, which is a short one hour drive from Victoria on the southerly part of the west coast of Vancouver Island. The dogs and I did the 1 km hike down to the beach, which is a classic curved and sandy west coast beach. In mid-August, I took the motor home and camped solo at the RASCals Star Party in Metchosin. I thoroughly enjoyed the night sky observing, and all the activities offered at this two day event. I also helped out to run things, since I'm on the executive Council for the RASC Victoria Centre.
In early September, we returned to Park Sands Resort in Parksville for another couple of days on the beach. This is when I saw the aurora mentioned above. In mid-September, we decided to take advantage of the hot, dry weather to camp at the Cowichan River Provincial Park, which is located between Duncan and Cowichan Lake. We walked the river trails, and I took advantage of the clear dark skies to take some astronomical photos of the beautiful Milky Way. About 80% of the sites are empty, so it is very quiet at this campsite. This turns out to be our last camping trip of the year.

Merry Christmas & all the best to you and your family for the New Year
Joe and Kirk, Rolly & Tanner, and Sheba