Introductions
Sylvester

(1997-2005)

adopted us in August of 1997 when he was a kitten. He

was

deaf, ha

d

one amber eye and one blue eye, white longhair, and a very bob tail (tight spiral actually). After doing some research, we decided that he

was

a

purebred Manx. He w

as

the short tail "rumpy riser" variety. Sylvester was a neutered male, all white double coated fur. He was a sweet-natured cat, who was content to laze around most of the day. He didn't like to sit in laps, but didn't mind being picked up and carried around providing you didn't sit down! Tucker and Sylvester grew up together, and played together. In 2004 he was infected with Cryptococcus - a nasty fungus which has the potential to kill animals (or humans), however it is not infectious. Sylvester was treated with Itraconazole and Ketaconazole - both anti-fungal drugs, but alas in May of 2005, he finally succumbed to the disease. Mid-way through 2004 we also discovered that Sylvester was diabetic...as if he didn't have enough health problems We administered insulin injections for the last year of his life. Suffer no more, Sylvester. May you rest in peace.
Tucker

(1997-2011)

We purchased Tucker from a breeder in the Cowichan Valley in December of 1997 when he was a three month old puppy.

As a

full grown 32 lb Parson Jack Russell,

he had

tall

, straight

legs and a smooth coat. (Other varieties of Jack Russells have rougher coats and many have short

, bent

legs.) Tucker

was

very large for a Jack Russell - about the size of a large-sized Fox Terrier.

He bonded to Kirk and I very closely, as Jack Russells are known to do...when he wasn't sleeping, his eyes were constantly following us. He lived a good, long and active life, but old age eventually caught up with him just before Christmas in 2011.

A Dog's Letter to God

.

Tucker will always be Joe's best buddy.
Sheba was adopted from the P.A.W.S. Society in August 2003, after spending time in the local animal shelter, a private shelter, and finally a retail store's adoption centre. She was in several foster homes after her original owners surrendered her to the shelter, and has had a rough life with little stability. She has adjusted to life in our household quite well, and kept Tucker at bay. She is a gentle cat - letting out little kitten squeaks when she is particularly happy, but she does like to complain to her staff about the service levels on occasion! We estimate she was born in 2000. Sheba is a spayed female, black with some sable colouring and a small white wisp on her throat, semi-long hair, weighing in at 15lbs. In 2004 Sheba was near death after ingesting a Poinsettia leaf (we think). Her liver shut down, she became jaundiced, and she eventually had to be treated with Prednisone, which thankfully led to a full recovery.
She is now a fat and happy cat, preferring to sleep often, and rest in between her frequent meals!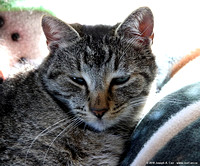 Percival (2003-2012) Percy was a male tabby cat, who we adopted in early 2010 from a woman I knew who could not take him with her when she relocated. He was a sweet cat, who liked to purr, cuddle, and push Sheba's buttons (when he was bored), although he was an active cat. He was also an accomplished escape artist...having escaped twice during the first year of his stay with us. He was a good buddy to Tucker, giving Tucker some cat loving during the short time they were together during his older years, and he wrestled on the floor with both Rolly and Tanner! Percy was a very talkative cat, sometimes sounding like a small child - quite a contrast to Sheba. He loved sleeping in his perpetually warm bed on top of the hot water radiator heater in the dining room. He was an athletic and talented jumper onto other high perches as well, including the kitchen counter when we were asleep. Percy died of lung and esophageal cancer, and also suffered from serious heart arrhythmia, although neither malady slowed him down until a couple of months before his premature death.
Rolly and Tanner are two brothers who we purchased in December 2011 at 11 weeks old from a breeder from the Comox Valley, a few weeks after Tucker's death. As I write this, they are still young, untrained puppies. Jack Russells are known to be full of energy and spunk, but these two tykes push that level of activity over the top! They are a handful, but we adore them. Rolly is the bigger of the two, and the one with the brown and black spot on his ear and eye. Tanner is the smaller and quieter one, and has the black spot over his ear and eye. As you can see, they are both predominately white, and their skin is not spotted like Tucker's was. They are both short-haired and purebred Parson Jack Russell terriers. Their legs are straight, and they will grow to be typical sized Jack Russells. It looks like Rolly will be a bit taller than Tanner when full-grown.
Pet Links
| | |
| --- | --- |
| | Coherent Dog - Carol Whitney's personal perspective on raising and living with dogs, as well as numerous personal wanderings involving people, and even cats. |
| | Jack Russell Terrier - JRTCA - Jack Russell Terrier Club of America - breeding, advice, rescue, trials, and fun stuff too. |
| | The Laughing Dog Press Virtual Kennel - dog humour and some good information is offered as well. |
| | Dirt-Dog.com - hunting, health, clubs, rescue, trials and events, and all other information related to Jack Russell Terriers. |
| | Alpha Boot Camp - who's in charge at your house? Your dog or you? |
| | Cat Fanciers' Association Breed Profile Manx - fascinating information about the Manx breed of cat. |
Photo Gallery
The photo gallery below is sorted chronologically - most recent photos appear at the bottom of the page.

Sylvester as a kitten
September 1997


Sylvester looking coy - as a kitten, beside the lamp and phone.
September

1997

.
Tucker as a pup in his red sweater.
January 1998


Sylvester was such a playful cat. Here is he is peeking out of a cereal box!
1998


Sylvester sleeping away a rainy day on the

W

estcoast.
Autumn 1998


Sylvester on the front deck in the Fall of 1998.
"Why is Joe pointing that darned camera at me again?"
Autumn 1998


Tucker in Summit Park - his favourite local place for a walk and a run.
October 1998


Woody, Tucker's best buddy.
January 1999


Holly - Tucker's girlfriend. She can be a bit bitchy, and she likes her cookies!
October 1998


Sylvester hiding in the washing machine tub.
"Sometimes, I just hafta get away from that crazy dog!"
December 1998


Tucker opening his Christmas present
Christmas Eve, 1998.


Tucker on the front steps, looking very handsome.
October 1998


Sylvester and Tucker playing on the bed.
Sylvester asks: "What does that dog find so fascinating about that dumb toy, anyway?"
November 1998


Tucker on the bed with his rope/ball toy.
"I can play up here, can't I?"
November 1998


Tucker biting his soccer ball, which we found in Summit Park the day after Christmas, 1998


Sylvester and Tucker playing on the cedar chest. Each puts a paw on the other's nose, and it degenerates from there, until it is a full-scale fight!
Spring, 1998


Tucker snagged himself on a thorny bush, opening up a gash near his left shoulder. After the vet glued him back together, we had to keep him from getting to the wound to allow it to heal properly. The Buster collar was a disaster, but Joe's modified plastic collar made out of a yogurt container worked fine! As you can see, Sylvester was taking advantage of the situation when Tucker was still recovering from going to the vet (in the Buster collar picture).
January 1999


Tucker & Cheryl on Cedar Hill Golf Course chip trail
February, 2000


Tucker & Cheryl on Cedar Hill Golf Course, new Duck Pond
February, 2000


Tucker & Joe on the new Duck Pond platform, Cedar Hill Golf Course
February, 2000


Help! They put my new toy up on a shelf I can't reach.
March, 2000


A co-worker's partner is a Canadian postal worker, and she gave Tucker this U.S. Postal worker squeaky toy.
He loves it (to death)!
March, 2000


It doesn't get any better than this - my new chew toy on the bed.
March, 2000


The piggy and Sylvester - what attitude!
August 2001



Sylvester is sleeping through a hot summer day in August 2001




Tucker is also trying to cope with the hot weather in August 2001


Tucker climbing on a log
"king of the castle"
Witty's Lagoon Regional Park
December 2003


A portrait of Tucker, our Jack Russell Terrier
Painted by Brenda Hodson



Christmas 2002 - Tucker opening his presents




Sylvester - October 2003


Sylvester - March 2004
A cat in a bag

Black & White Bookends
Sheba and Sylvester
March 2004

Sylvester & Sheba decid

ing

who owns the cat condo


September 2004


Sylvester - Christmas 2004


It's all just too much for me...zzzz


Sheba - August 2003
A few days after her arrival in our home, she has already found her favorite chair.

Tucker - Christmas 2004


Oh boy, a new squeeky toy!


Sheba - Christmas 2004
OK you have your photo, now get that thing off my head!

Sheba - January 2005
Thanks for putting my bed near the hot water heater - it's cold outside...and I'm a heat-loving cat!


Tucker - January 2005
Playing in the snow at Summit Park

Sheba - June 2005
Our sun goddess Sheba soaking up the sunshine on the back porch. When the weather is hot, she stays out there most of the day. She even rolls over on her back and suns her tummy!

Sheba - July 2005
"See how big my teeth are?"
Actually, this was just a big yawn. Sheba was out on the back porch again relaxing in the sunshine

Tucker in one of his favorite spots
on Joe's lap in the office


Oct 29, 2007


Tucker on the big cushion - August 2005
If you look closely, you will see a gash on Tucker's nose.
He stuck his nose a little too close to a raccoon, and paid the price.


Tucker - August 2006
Tucker is wearing a t-shirt because he has a rash
on his chest and shoulders. He is also wearing
a sock on one of his back feet because he has
a sore toe. We're not into dressing up Tucker,
but he compulsively licks these wounds, so the
clothes keep him away from them.

Percival - May 2010
Percy is enjoying the morning sunshine from Sheba's bed.

Tanner at 11 weeks old - December 2011

Rolly at 11 weeks old - December 2011

Brothers curled together - nap time for Rolly & Tanner

at 11 weeks old