Tucker our Jack Russell Terrier was diagnosed with lung cancer in January - not a good start to the year by any measure. He was a very sick dog, with incessant coughing and low energy levels. Against our veterinary's advice, we decided to go the major intervention route, taking Tucker over to Vancouver to see a specialist in thoracic surgery. She assured us the cancerous mass in his chest was operable and his prognosis was good, so we went ahead with the surgery. Tucker recovered quickly, and has been his old happy self since then. The surgeon cautioned us the cancer could come back in a year or two, or not - so we simply appreciate every day we are given with Tucker.
Kirk and I have had a good time this year. Victoria had a mild winter, so the ornamental trees bloomed in our neighbourhood in late February! We didn't take as many trips with the motor home this year as last, but camped at French Beach in April, and Parksville and Little Qualicum Falls in June. I also camped solo with the motor home for my high school reunion on the Cowichan River in July, as well as two local star parties held in August and September (see below for details). My cousin Cheryl came over to Victoria for a visit in May. We did a mini wine tour of the Saanich peninsula, which was fun, and so close to home.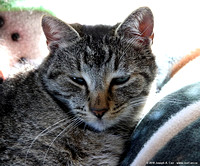 We adopted a new cat in March. Percival is a small male tabby who is very affectionate and loves to purr and sit on laps. Finally we have a lap cat! Sheba was not too pleased with the new addition to the family, but the cat fights are now mostly token scuffles, with both parties having already decided on their home territory in the house. Percy managed to escape outside a couple of times this year. We quickly learned just how hard it is to catch a cat who doesn't want to be found. The second time he escaped while we were camping at Little Qualicum Falls. He ended up spending the whole summer outside on his own before finally deciding it was time for the easy life at his new home. He is now so spoiled; I doubt he will venture very far again.
Both Kirk and I went a bit crazy this year buying new cars. Kirk is now the proud owner of a nicely equipped Honda Civic coupe, and I ended returning to a luxury car: a Honda Accord Crosstour. Although my 2004 Honda CR-V was still in good shape, it was at the age where a decision had to be made. Either keep it and spend some money on it, or trade it and start with a new vehicle. I spotted the Crosstour when Kirk and I were in the showroom to make a deal on his Civic, and I can honestly say this is the first car in quite some time which has appealed to me. I'm really enjoying driving a luxury car again…it harkens back to why I kept my 1981 Toyota Supra for 15 years.
My 40th high school reunion happened this summer in the Cowichan Valley. It was held at a private campsite by the Cowichan River - an idyllic spot where we could relax, camp overnight (two nights for some of us), and have some time to get reacquainted. Being the age we all are allowed us to really have some fun, and having a wonderful rock and roll band (made up of our classmates) playing Saturday night was the icing on the cake. Everyone was all smiles as we reluctantly left for home Sunday morning.

2010 Reunion Online Photo Gallery
My astronomy was very rewarding this year. Despite the first half of the year seeming to be an endless procession of overcast conditions, I managed to observe regularly and capture some very nice astrophotos of both objects in the night sky as well as the Sun during the day. I attended two local star parties this year: our own Royal Astronomical Society RASCals Star Party held in Metchosin in August, and the Island Star Party held Labour Day weekend at Bright Angel Park in Cowichan Station. I took the motor home to both events, and had a great time!

Some friends and I ended up taking a cruise from Vancouver to New Zealand after discovering a deal we simply couldn't pass up in the local paper. Holland America's Volendam was a wonderful way to travel across the Pacific, stopping in Hawaii, American Samoa, Fiji, Vanuatu and New Caledonia before disembarking in Auckland. We spent an additional 16 days touring the North Island before returning home - a six week trip!

The ship's staff pampered us, and the New Zealanders were so friendly. It was nice to be able to visit with my cousin Cindy and her family, as well as have time to see all the beautiful sights the North Island has to offer.
Have a great Christmas holiday, and we wish you the best for the coming New
Year!
Kirk & Joe, Tucker, Sheba & Percival